---
---
---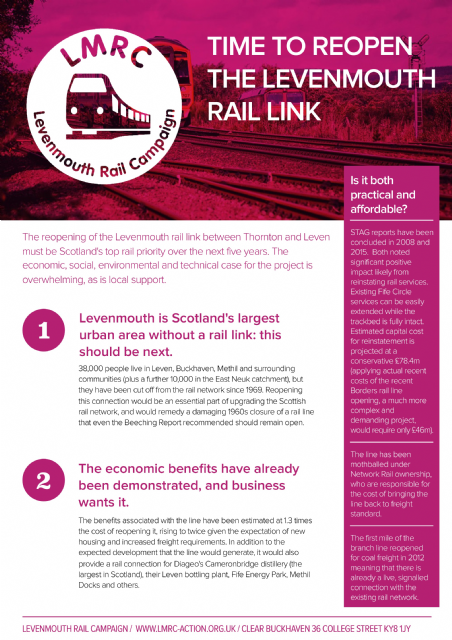 Some arguments for:
By far the largest urban concentration in Scotland unserved by direct rail links (30-50,000) = exclusion
The line is intact – unlike most others (Borders, St Andrews etc) hence lower relative cost £55 million estimated by experts in 2008)
Very poor alternative transport modes, especially road – despite the population and industrial base
Growth in housing and thus population = transport demand (always underestimated with new rail projects)
Significant freight possibilities – Diageo, Methil Docks/ Energy Park, Levenmouth supermarkets, opencast mining (Earlseat), Biomass plant. Significant reported interest from Diageo, fruit importers, Bifab
Combatting deprivation – Levenmouth has one of the highest concentrations of deprivation in Fife. Rail links enhance employment opportunities for its workforce, build connectedness
Nationally strategic industrial sites – Diageo, Energy Park, Methil Docks, Earlseat coal
Policy context – we can't keep building roads, rising energy costs, carbon emissions and climate change impacts from continued reliance on road. Other communities ave already been relinked by rail.
Additional arguments
Scope for locating a depot for Fife Circle trains. We understand Thornton was considered as a potential location but this was been rejected raising the possibility of using the Thornton-Leven stretch. Parking trains along this branch would obviate the need for running empty trains into Edinburgh first thing.
The current Fife Circle timetable already includes the provision for a return journey from Thornton to Leven. Trains currently terminate at Thornton, cross the main line – which they would do when services to Leven reopen – but wait for a period which would allow a return trip to Leven
The electrification of the Glasgow-Edinburgh line will make substantial rolling stock available in Scotland from 2017 – some of which can be used on the new line.
Why not?
Scotland has 1,700 miles of railway line so the addition of 5+ miles to reconnect Leven with the main network at Thornton should not be a huge step, nor the addition of two 'new' stations (at Leven and Windygates/Cameron Bridge) to the 351 stations already open across the country. The extension of hourly journeys linking Leven to Edinburgh (with connections north also) would not even add to the 2,500 rail services operating daily across the country.
In terms of investment required, the estimated £55 million pricetag required to reinstate this line pales into mere insignificance against the context of the £5billion spend by Network Rail in its current five year plan, and a mere fraction of the £300 million presently being spent on the Borders rail link. So why not and why not soon?
The £650 million now being spent on Edinburgh-Glasgow line electrification will even release the engines and carriages needed to support services on the Leven branchline extension – so no additional cost there.